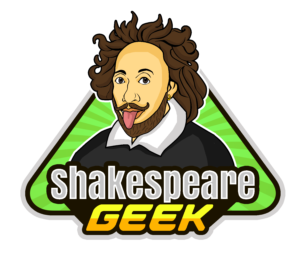 Over the years I've seen many Shakespeare lists.  Instead of linking to yet another one I thought it would be fun to combine several and come up with my own, the Shakespeare Geek Top 10.  This is not my opinion, this is the mathematical analysis (according to my own algorithm :)) from a variety of places, some here and some elsewhere, that people have voted on a general "top 10" for Shakespeare's plays.
How you define "best" is up to you and I fully expect that people use different scales all the time.  That's why I'm looking at it statistically – if most people pick Dream as the best play, then does it really matter why they think they picked it?
Ready?

#10. The Tempest.   Maybe it's the fascination with "Shakespeare's last play", maybe the fairy tale, happy ending nature of the story (I know it's the latter that gets my vote), but I'm happy to see one of my favorites just make the top 10.
#9. Julius Caesar.  I appreciate that this is one of the great tragedies that most of us will read in high school, but I was surprised at the showing it made.  I don't understand.  If the Twilight lady announced that she was filming a new version of Julius Caesar I'd bet you can hear the crickets chirp.
#8. A Midsummer Night's Dream.  I know there are folks out there who will put Dream up against Hamlet as one of the best, and I have to concur.  I've ranted at times that I get sick of seeing it, but really, as I called it the other week after seeing a production, it's "pretty near perfect on the page."

#7. Richard III.  I'm not familiar enough with this one to have cast a vote on it.  Tell me why you love it?  Just the evilness of the title character, or something more?

#6. Henry V.  Do we all love it because of the Crispin's Day speech and the Muse of Fire, or is there more to it?

#5. Romeo and Juliet.  Now we get into some of the more obvious ones, will there be any surprises in the top 5? Does Romeo and Juliet deserve a spot this high or is it just because we're all so familiar with this high school favorite?

#4. Othello.  I've seen many people speak of Othello as one of the great underrated tragedies, and I have to agree.  When you really take the time to dig into it, it's far better than the more shallow analysis might suggest.

#3. Macbeth. Glad to see the Scottish play fare so well, it's one of my top choices.
…and the big question *still* not answered:

#1 King Lear and Hamlet
We have a statistical tie for the #1 spot with Hamlet and King Lear both getting the exact same score!  (That just means I need more data, hint hint hint.)

Disclaimer : Only 7 of my top 10 made the final list, so I'm not skewing the results to my own personal choices.
I can't say there are many surprises.  If I pulled it out to a top 15 we'd start to see some of the popular comedies, As You Like It, Much Ado About Nothing, Twelfth Night … but at some point I run out of numbers to make a meaningful argument, too.
Disagree?  Make your own top 10 and post it in the comments!  I'd love to keep my statistics up to date and have a true and accurate top 10 list, as defined by the audience of Shakespeare geeks as a whole and not just one person's personal opinion.  I may have even added you already, if you've made a list. Who knows? 🙂