Yesterday I told you about the joys of the Shakespeare beer known as ShakesBeer and how I came to discover it. I've already discussed their New England IPA known as "Act One".
Today let's talk about their "Imperial IPA", The Tempest. It would have been awesome if they'd kept the "Act" thing going but there's an obvious hard limit there so I can see why they couldn't do that.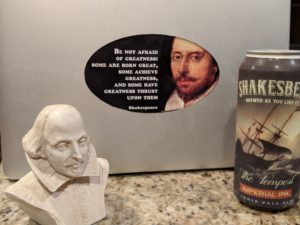 I love the branding on this one.  It's no secret that The Tempest is my favorite play, and I'm happy to see its image on the shelf.  If I could get my hands on the cans themselves (without the contents) I'd add them to my collection of Shakespeare stuff.  I suppose I could just wash out an empty but I'd feel like I'm back in college building a tower of empties if I did that.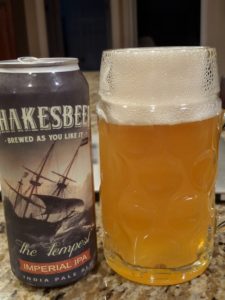 This one is noticeably darker than the Act One, but I suppose maybe not so noticeably because my wife claimed she could not see the difference until I put the two side by side.
A juicy New England Style IPA featuring six different hop varieties and a more robust 7.7% ABV.
I could definitely see and taste a big difference. The flavor is much stronger and richer here, and that 7.7% ABV is nothing to slouch at.  Let's put it this way, I had the Act One at a leisurely pace on a Sunday afternoon while I watched football. I had The Tempest after dinner on a weekday when I had to go pick up my kid from dance in an hour.  Totally felt it, could not have had two.
I think both of these are going to make nice fall selections. As I've gotten older I still enjoy a beer, but I'm not the type to just keep pounding them back. So flavor is a big deal, but so is not getting buzzed – I'm getting too old for that nonsense, the kids need homework help.  For both of these I'm happy to have one, maybe two, depending, and that's just right for me.
It looks like they have a third option, A Midsummer Night's Ale, but since it's listed as a summer brew I'm going to assume that I missed the seasonal window and will have to wait until next year.
Hey ShakesBeer people, are you out there?  I think we'd all like to see "A Winter's Ale" as your next offering!