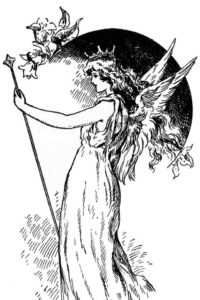 My daughter turned on the television this weekend and asked me, "What's Sixteen Candles about?" because that's what happened to be on.  That particular movie's gotten a lot of hate lately as being out of touch with that whole thing called "consent," but I wasn't prepared to start that conversation spontaneously on a Sunday afternoon.
"That's an old comedy from the 80's that didn't age very well, people don't like it very much anymore," I said.
"But what's it *about*?"
"Well, there's this girl who is having a very tough day because her parents are so off in their own world doing their own thing that they forget her sixteenth birthday."
"That's not good."
"Exactly. And of course she's in love with the most handsome guy in school, but he doesn't care, because he's dating the most popular girl in school. Meanwhile, the nerd of the school is totally in love with her and following her around all over the place."
"Oh!" she said, "Like Midsummer Night's Dream!"
"…" I replied.  "Not really like Midsummer Night's Dream, no.  But I'm probably going to get a blog post out of the fact that you said that."
"Is it weird that the first thing I thought of was Midsummer Night's Dream?"
"I love that that's the first thing you thought of.  That makes me very happy."
The more I think about it I'm guessing she put Molly Ringwald into the Helena role?  Wants the one guy, but he's got no interest because he's already got a girlfriend, meanwhile this other creep is stalking her?  It's not a bad match.  I just never put Lysander and Demetrius into the "jock" and "nerd" categories before. I love that my kids see Shakespeare even in places where I don't.
This month's posts are sponsored by No Shave November. To help raise cancer prevention awareness, and some money along the way, all proceeds from this month's advertising, merchandise and book sales are being donated.  If you'd like to support the site by supporting the cause, please consider visiting my personal fundraising page linked above, where you can make a direct donation.