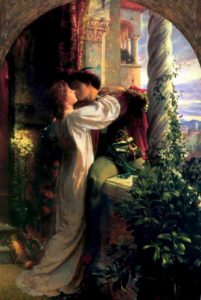 My younger daughter is studying Romeo and Juliet at the moment. We've been over that play so many times over the years that for the first few lessons I learned that she wasn't even reading the book, she was just going from memory!  Unfortunately she had her events out of order and was getting them wrong (Mercutio and Tybalt do not fight in Act I Scene 1…) but that's not the point of this story.
Driving to school the other day…
Geeklet: "We have a Romeo and Juliet quiz coming up."
Me: "You going to crush it?"
Geeklet "I think so."
Me: "Should we study?"
Geeklet: "What kind of nut does Queen Mab ride around on?"
Me: "I have no idea. But we could find out."
Geeklet: "It's a chestnut, isn't it? I think it's a chestnut."
I'm driving, so I ask Google assistant to pull up the Queen Mab speech.  My oldest is sitting in the front seat so she reads.  "See if you can find anything about a nut in there," I tell her.
Her chariot is an empty hazelnut,
Made by the joiner squirrel or old grub,
Time out o' mind the fairies' coachmakers.
And in this state she gallops night by night
Through lovers' brains, and then they dream of love;
Geeklet: "Oh. I was close."
Me: "Wait, so, is that actually a question you'd be asked? What kind of nut?"
Geeklet: "Oh she'll definitely ask that, and if you get it wrong you'd get the whole question marked wrong."
Me: "That's stupid. Ask about the point of Queen Mab, or why Mercutio tells us about Queen Mab, or what that tells us about Mercutio's character.  But to get quizzed on that level of detail? That entire speech is nothing but that level of detail!  Children, children –  please, what kind of *bone* is Queen Mab's whip made from? Hmm? Anyone?  A grasshopper? No, I'm terribly sorry, the answer we were looking for was cricket.  Cricket bone.  You fail." Maybe it's just to prove they read it. Great – prove they read it by translating it into their own words or something. That would show significantly more comprehension, rather than pure word by word memorization.
So instead we turned the rest of the drive into a lesson about why Mercutio is awesome.
Geeklet: "He's the one that starts the fight with Tybalt, though, right? Because he was defending Romeo."
Me: "That's why Mercutio is awesome. He's a poet *and* he's a fighter. He's that guy where, if there's a party and you weren't gonna go, then somebody says, "Dude, Mercutio's gonna be there," you'd be all, "Oh, sh*t, Mercutio's going? What are we waiting for!"
Geeklet: "Isn't he also a drag queen?"
Me: "You're thinking of the 1996 Romeo+Juliet movie.  But they were all going to a *costume* party. Everybody was dressed up.  Mercutio just kind of got into the spirit more than some others."
My kids like Shakespeare because we talk about the characters like they're real people. If you're supposed to like them we talk about why, and if you're not supposed to like them we talk about why, too.  I don't quiz them on perfect recall.  Half the time I get my quotes wrong, too.
But most kids who have to study Shakespeare in school don't have me.  Nor do they have a parent who plays the same role. So they're stuck with whatever's asked of them in class.  And if all that's ever asked is to memorize, there's never going to be any appreciation.
(In my daughter's teacher's defense, I am not in the class, and I have no idea if my daughter's description is accurate. My point is still valid, though, because it's how she sees the class. She *thinks* that is the kind of thing that's expected of her, and that's enough to have her spend her time studying the trees rather than appreciating the forest. Perhaps that's indicative of a larger problem with the default way that students go into classes like this? As far as I know, her teacher never gave any indication that this sort of memorization was expected – my daughter just assumed it.)