I've been auto posting a bunch of Shakespeare quotes to Twitter lately, and watching the analytics to see which ones people seem to like most.  A popular one was:
How far that little candle throws its beams! So shines a good deed in a naughty world. – Merchant of Venice (Act V, Scene I)
I thought I'd make a new t-shirt out of it. But the more I looked at it the more I thought, "Wait, did Shakespeare really use the word naughty?  Let me double check." Because if there's one thing I can't stand it's when I make a mistake on a Shakespeare quote.
I start typing "So shines a good deed" into Google and helpful Google pops up in autocomplete "in a weary world."
Oh! Ok, that makes more sense I suppose.  Then I thought, shoot, did I tweet the wrong quote?  So I force Google to search "in a naughty world".  Sure enough, hits for that one too!
What's going on?
When in doubt, off to the First Folio we go!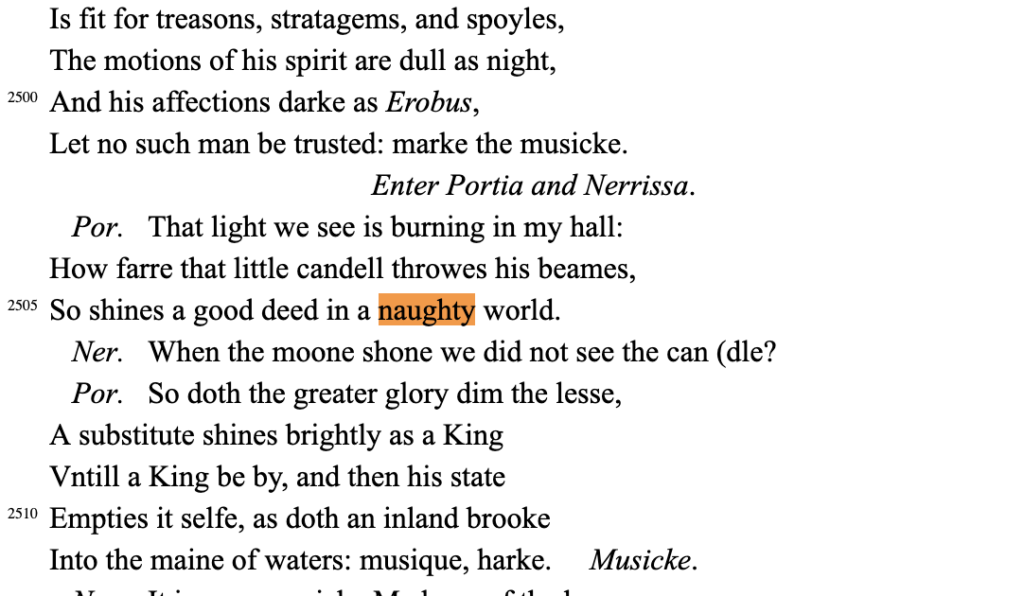 Interesting! It's the same in Q1 (I like to check there as well because sometimes it changed!)
So then where did weary come into it?  Though this may not have been the first example of the mistake, you'll soon see why it's so popular:
Mr. Wonka's not the only one weary of this naughty world. Google tells me that "weary" is actually the more popular of the two!


Bardfilm's got a theory that "naughty" was simply edited down for a the kids' film.  From what I can tell, he's not wrong. He's a 2005 "Straight Dope" post about the topic:
It goes on to say that Setzer tweaked the line, probably to be less archaic and more reflective of Wonka's character.
(The original link the researcher found is dead.)
I'm ok with this answer – it's better than, "They changed it because they felt like it."  The movie is over, and this is the big climactic moment for Wilder's character.  Is his primary thought that the world is a naughty place?  Or is he just so very tired of it being that way?  Not to spoil the ending but he's about to make some decisions that answer that question.
Explore more Not By Shakespeare posts!