I love posing with statues.  With a painting or something that most you can really do is stand next to it. But with statues you can interact, you can climb on them, crowd around them, pose with them, sit and read a book with them.  I'm happy that Statford-upon-Avon is littered with statues of Shakespeare characters.  There should be a treasure map for tourists like me to see them all out and get a prize.
Welcome to Henley Street!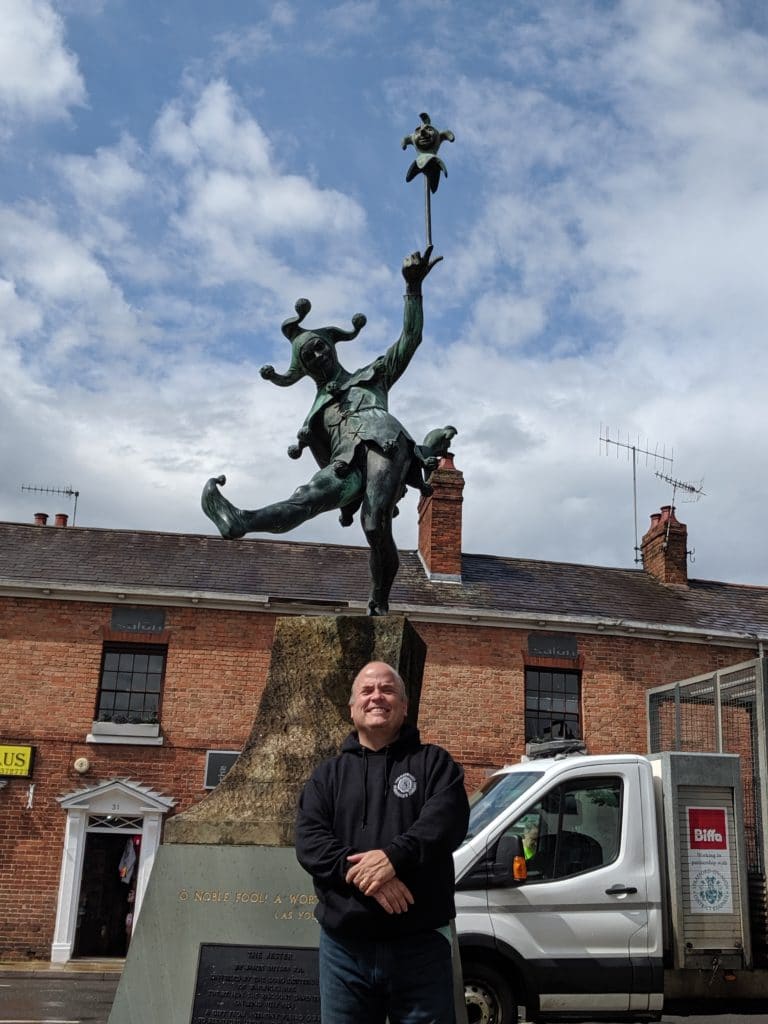 Not gonna lie, this is the first statue I saw and while I was excited that things were getting real, I also kind of thought, "…eh.  All I get is a fool?"  As far as I can tell he was representing all the fools, as there were quotes from several plays adorning the base.  I think a specific fool with a specific quote would have made me happier.
Then I saw something that made me very happy.

There's the man himself.  Love that he's way up high, overlooking his domain. The kids even recognized this one, saying, "This is the statue from Gnomeo and Juliet!  He talks!"  I didn't even make the connection.
But!  The animated version doesn't give us the good stuff.  What's Shakespeare looking at?  At the four corners of the statue are his greatest creations…

Lady Macbeth

Falstaff

Henry V

Hamlet
My kids all chose their "spirit animals" here.   I have one Lady Macbeth, one Falstaff and one Hamlet.  I actually had to come back around for that Hamlet picture, I realized the first night that I hadn't gotten a solo one of him (just one with the kids). Glad I did, I love that picture.
I posted a few of these on social media at the time and one of my Twitter followers added a picture of her own – with a statue I hadn't seen!  I had to have it. My wife was all, "I know right where that is, we walked right by it."  ?! Dude!!  Back out we go. Found him!

I actually had to kick some little kids off of him to get this picture. 🙂
Shakespeare Birthplace Garden
The garden outside the Birthplace is adorned with all sort of gifts commemorating Shakespeare's contemporaries from around the world.  I took this picture specifically for Bardfilm, who I know has an interest in Shakespeare and Asian culture.

New Place
But if you want Shakespeare statues, New Place is the place to be.

First of all we saw this guy, and I audibly exclaimed, "I know this one! I've seen it!  This is where this is?"
Then it got weird.  What follows are these very interesting interpretations of the plays.  I had to get them all, but now I really wish I'd labeled them better because I can't begin to tell you which play is which.  We actually played the game of trying to guess them, and my son was really good at it – until right at the end when we discovered that he was running ahead and looking at the nameplates, the little cheater.

I think the nose gives this one away!  Julius Caesar

Falstaff was fascinating.  I actually took a video, I just can't figure out how to post it. Falstaff is split down the middle. This is one side.

And here's the other!

I can't remember who this poor soul is.  There's a nameplate right at the bottom but I can't read it.  Is he holding the swords or being pierced by them? I'm tempted to say Hamlet – it looks like he's holding a skull – but the face is pretty old for Hamlet.

At first glance I want to say Ariel escaping the cloven pine, but The Tempest comes later on the walk. It turns out this is The Winter's Tale, which completely wrecks my subject line because I guess we found a Hermione after all!  I had forgotten all about this one when I started the post.

No guess at all. Seriously. Can't even find somewhere to start.  Anybody?

Too easy.  Well shone, Moon!

This feels like Hamlet to me, but I can't be sure.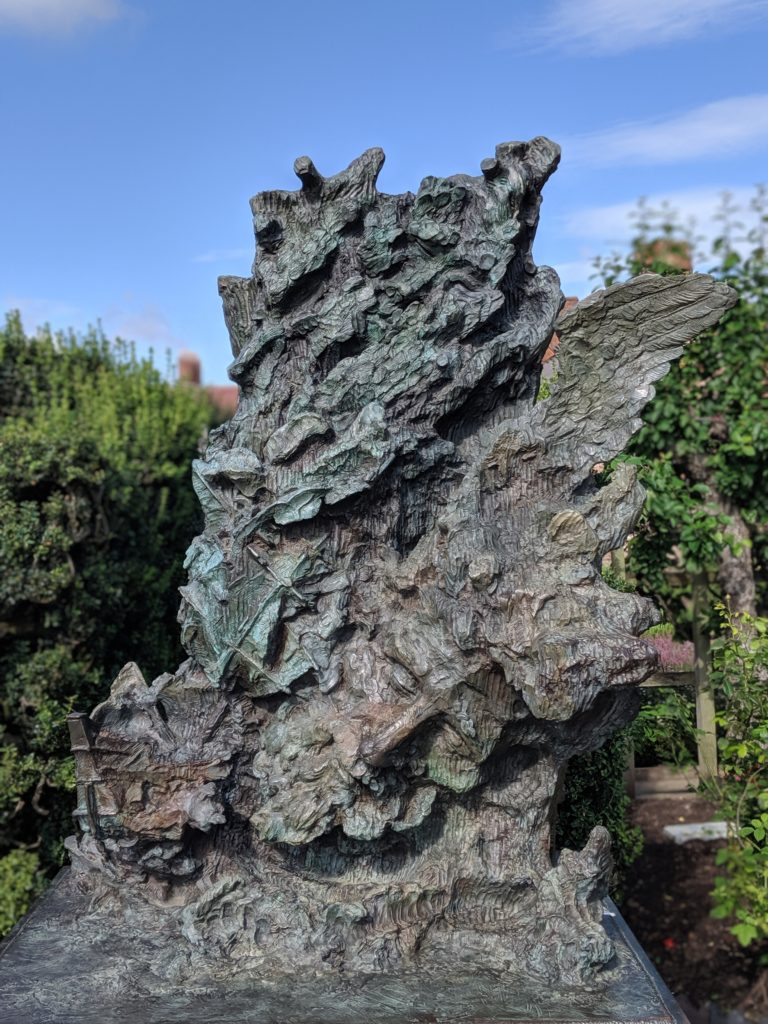 Last but not least we have … any guesses?  The Tempest.
Our Revels Now Are Ended
This post represents the last of our time in Stratford.  From here we move on to London, where there'll be some Shakespeare content (including a review of our visit to The Globe!) but Thursday morning we say goodbye to the land of Shakespeare and head in to the big city.
Did we see everything we wanted to? Could I ever? I could come back again and agan and see something new every day.  I'm reminded now of a quote from Peter Brook, "Each line in Shakespeare is an atom. The energy that can be released is infinite—if we can split it open." That's how I look for Shakespeare in the world around me. Maybe it's getting to see a whole show, or tour the back stage. Maybe it's statues of Shakespeare's most famous heroes, or a line of rowboats with names like Viola and Ophelia, or the Falstaff Hotel or a streetsign for Lysander Lane. Maybe it's yon cloud that looks like a weasel. I'm always looking for the Shakespeare around me, and that's why Shakespeare makes life better. Because when I find it, I feel connected to something much, much bigger than I am. For a few days there I got to swim in the deep end of the pool, and I didn't come close to hitting the bottom.